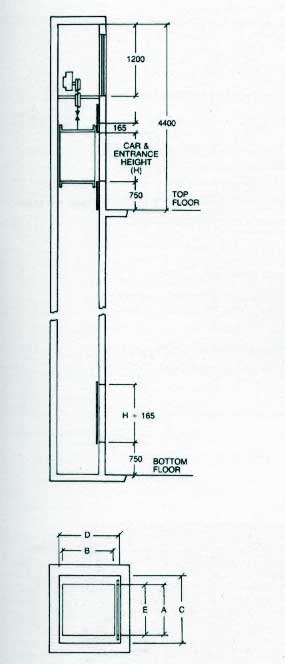 Layout Drawing for EISA DumbWaiter
EISA Dumbwaiters are designed to handle weights in the range of 100 to 250 Kgs at speeds of 0.25 to 0.50 mps.
Different Control Systems are available to choose Dumbwaiters depending upon the number of Floors served and the frequency and intensity of services.
The table below enumerates Space Requirements for a DumbWaiter.
Load

Speed

Car-Inside

Lift-Well & Machine Room

Entrance

Kg.

mps

A

B

H

C

D

E

H

100

0.50

700

700

800

1200

900

700

800

150

0.50

800

800

900

1300

1000

800

900

200

0.25

900
900

1000

1400
1100

900

1000

250

0.25

1000
1000

1200

1500
1200

1000

1200